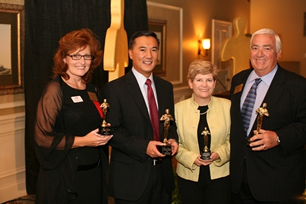 The Fayette County Chamber of Commerce announces the recipients of the 2008 Small Business of the Year Award at their annual awards luncheon Wednesday at Flat Creek Country Club in Peachtree City.
The Small Business of the Year Award is given to recognize exemplary business practices and innovation of Fayette small businesses.
The winner of the 2008 Small Business of the Year Award in the 1-10 employees category was Accounting Resources, owned by Bob and Alice Reeves of Fayetteville. Accounting Resources began in 1998 and have since grown to over 400 individual and corporate clients.
Alice believes the business fills a unique niche in the community, providing accounting services to small businesses that don't have the resources to hire a full-time employee.
Customer service is high on their list of priorities, and Alice will often flex her schedule to meet the needs of her clients, many times going to client locations during off-hours.