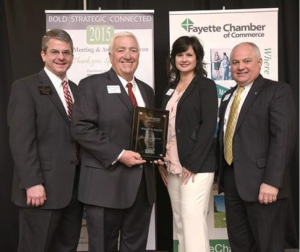 On January 16, 2015, the Fayette County Chamber of Commerce honored their own, at their annual meeting and awards luncheon.  Receiving the Outstanding Business Person of the Year Award was Bob Reeves of Accounting Resources.  This award is chosen annually by the prior recipients, and is given to someone who owns, operates or manages a business or profession in Fayette County, who has demonstrated unselfish support of the community and who has exhibited a broad range of involvement in community affairs.
Bob's community involvement includes his service on numerous boards.  Selected as Treasurer of the Atlanta Regional Commission, he serves as the Citizen Representative for Fayette County.  He is a member and secretary/treasurer of the Regional Business Coalition.  He is Chair of the Coweta Fayette EMC Trust Board and a member of the Fayette Senior Services Board.  He has fulfilled his term on the Fayette County Chamber Board but continues to serve as the Chair of the Government Affairs Committee.
In business since 1998 with his wife, Alice, Accounting Resources provides bookkeeping, payroll processing and tax preparation for individuals and small business.